MY NEW BOOK - JUST PUBLISHED!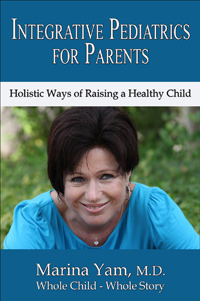 In this book you won't find how to get rid of a headache. Instead, I will show you how to look for its source, because understanding and eliminating the source of the problem is almost always more important than treating the symptom alone.
I will describe cases from my clinical practice that show how a child's mind, body, and soul are linked, and how critical it is to go beyond treating symptoms and to use a holistic approach. At this vital and fascinating intersection of psychology and pediatrics lies integrative (also known as holistic) medicine.
Here is my promise to you: the following pages will be thought-provoking, entertaining, and informative. In the process, not only will our children successfully grow and develop, we will too.
Whooping Cough Update
Due to the whooping cough outbreak in Bay Area, all children should have five (5) shots of DTaP before age five (5); and one (1) shot after age ten (10).
Also, all adults, around an infant under 6 months of age, should get a whooping cough shot. If your child has not received the DTaP shots please call 408-376-3666.We can immunize the family members at your request as well.
Effective 01/01/11, a law (AB-354) changing California immunization requirements for students entering 7th-12th grades in public and private schools was passed. The law requires:
This coming school year (2011-2012), all students entering into 7th, 8th, 9th, 10th, 11th or 12th grades will need proof of an adolescent whooping cough booster shot (called "Tdap") before starting school.
For the next school year (2012-13) and future school years, all students entering into 7th grade only will need proof of a Tdap shot to start school.